FOXY SINNER by Marco Jesus 
1. Cool the glass with ice
2. Crush 6 raspberries
3. Add 0.5cl of Monin Elderflower Syrup
4. Take the egg white from 1 egg
5. Add 1cl of milk or cream
6. Squeeze 3cl of fresh lemon juice
7. Take 5cl 7Sins "Pride" gin
8. Fill it with ice
9. Shake
10. Sieve the contents in the glass, and fill with 3cl 7up.
11. Enjoy this Foxy Sinner!
Cocktail by Cocktail Alchemists
50 ml gin @7sinsdrinks
30 ml fine orange champagne liqueur
25 ml lime juice
20 ml cranberry juice
20 ml vanilla syrup
4 spearmint leaves
Glass:
highball @topglassware
Garnish:
Spearmint
Method:
shake all ingendients together and fine strain into ice filled glass
GREEDY COLADA by Cocktail 
Consultant
50ml 7Sins 'Greed' White Rum

40ml Fresh pineapple 🍍 juice

30ml Bio Coconut milk 🥥🥛

2 pineapple chunks

30ml Spytail Black Ginger Rum (FLOAT)
Add all ingredients to a shaker except for the float. Shake vigorously and serve over crushed ice.
Add Spytail float on top.
Garnish with fresh mint and pineapple peel.
CANDY CRUSH by Cocktail Consultant
30ml 7Sins White Rum (🇧🇪)
30ml Fristi (🇳🇱)
10ml Luxardo Sangue Morlacco (🇮🇹)
10ml Simple syrup
5ml Mandarine Napoleon (🇫🇷)
2 dashes Cherry 🍒 Bitters
1 dash Peach 🍑 Bitters
Edible acid from one candy 'planet' 🍭🍭

Add all ingredients to a shaker tin with ice and shake vigorously.
Strain into coupe and garnish with more planet candy and soft strawberry 🍓 candy.
THE SHAMANS NEGRONI by Cocktail 
Consultant
Stir everything over lots of ice and strain into coupe.
Express lemon 🍋 peel and garnished with wild camomile in peel with some small, blue flowered, unknown wild herb.
BROKEN WHEEL BRAMBLE by Cocktail 
Consultant
60ml 7 Sins 'Pride' Gin

30ml Lemon 🍋 juice

15ml Rich SS

15ml Crème de Mure
Muddled 3 brambles in old fashioned glass together with lemon juice and simple syrup.

Added some crushed ice and stirred, add gin and more crushed ice.

Add Crème de Mure as float.
Garnished with brambles!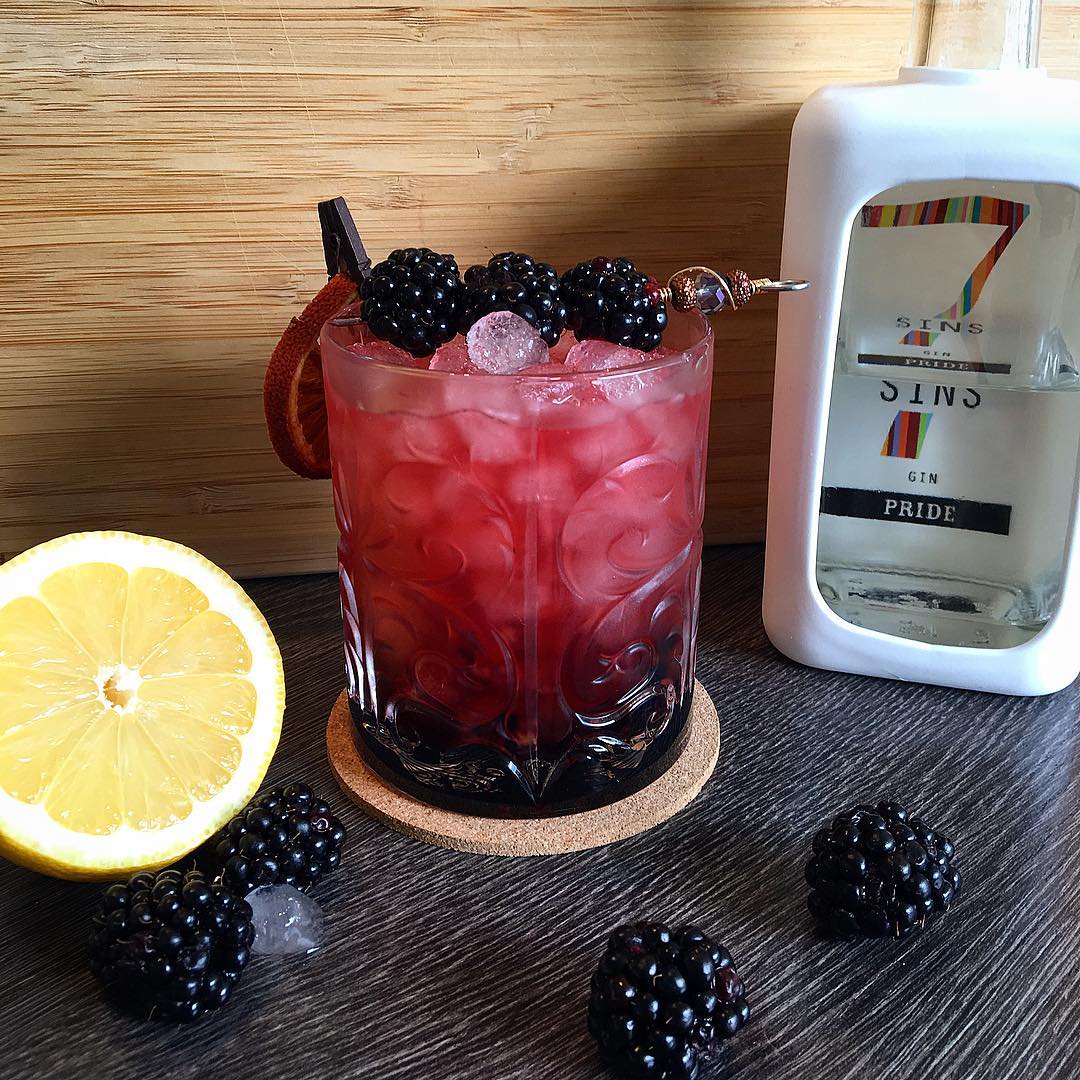 HADES' ELIXIR by cocktail consultant
50ml 7Sins Vermouth 'Envy'

20ml St. Germain

15ml Lillet Blanc

10ml Suze
Shake all ingredients for 15s and strain into pre chilled glass.
Garnish with 3 red cherry's 🍒 and some grated lemon 🍋 on top. Cheers